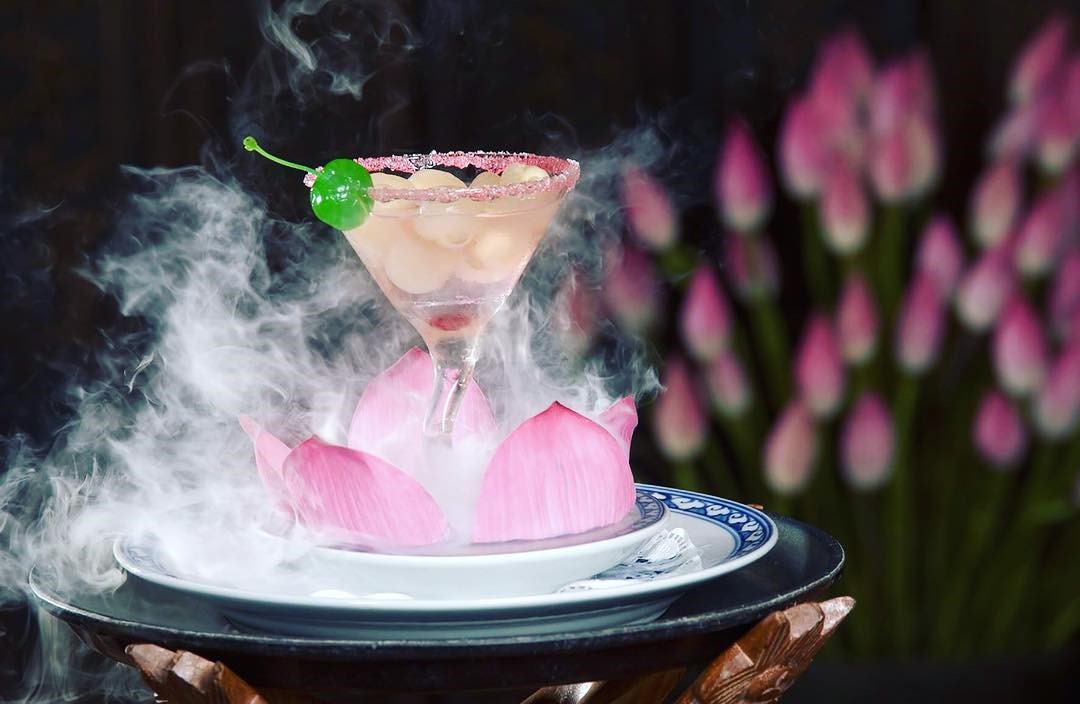 Saigon culinary is just hard to describe by words with its exotic taste and diversity depending on each region. While street food is a must within the city, we'd want to introduce you the 3 best authentic Vietnamese restaurants in Saigon with amazing food and luxury ambience to complete your wonderful night.
The best authentic Vietnamese restaurants in Saigon
An An Saigon
Located inside a wet market but An An (Eat Eat) is a true gem with upscale traditional Vietnamese food. Chef Peter Cuong Franklin has created a restaurant where gourmet dining meets street food.
You can find various Vietnamese cuisines such as Pho, Banh Mi, Banh Xeo or spring rolls but are made from premium ingredients and cooked by sophisticated techniques.
Although An An is known for its $100 Pho and $Banh Mi but the rest in the menu has a good price compared with the "luxury" food.
What we recommend: Pho, Banh Mi, Banh Xeo Taco, Dalat Pizza, Tra Da cocktail.
Besides, if you are in an urge for a drink, go upstairs to find Nhau Nhau (Drink Drink) – A bar version of An An where you can find signature cocktails while drinking (Nhau) as the locals.
Address: 89 Ton That Dam, District 1, Ho Chi Minh City
Opening hours: 5pm to Midnight, Tuesday to Sunday
Hoi An Sense Restaurant
Hoi An Sense is a rooftop high-end restaurant that evokes guests to the culture and cuisine of the Central region of Vietnam, especially Hoi An. You can recognize time reflection in exquisite design with antique architecture, vivid lanterns and wooden interiors.
Hoi An Sense is also a top restaurant where it greets lots of worldwide leaders as the Prime Minister, the Queen, the President, and many more. All dishes here are delightful and beautifully presented. If you're lucky, you can watch a show with Vietnamese performers in traditional Ao Dai.
What we recommend: Tasting menu is the best choice for novices that includes 6 to 9 dishes.
Address: Rooftop 12 Phan Ke Binh, District 1, Ho Chi Minh City
Opening hours: 5pm – 11pm
Hum Vegetarian
Hum Vegetarian is one of the best authentic Vietnamese restaurants in Saigon with its Vietnamese-inspired vegetarian cuisine. If you want to find inner peace among the chaotic city, go to Hum.
Walking into Hum is like walking into a green private oasis that relaxes your mind with the elegant contemporary design. What you would love about Hum Vegetarian is they only use the best, most fresh ingredients with no flavor enhancers to keep the food closest to nature.
What we recommend: Hotpot if you come with your group, fried spring rolls, pineapple fried rice, fig salad.
Address: 2 Thi Sach, Ben Nghe, District 1 / 32 Vo Van Tan, District 3 / 32 D10 Street, Thao Dien, District 2, Ho Chi Minh City
Opening hours: 10am – 10pm