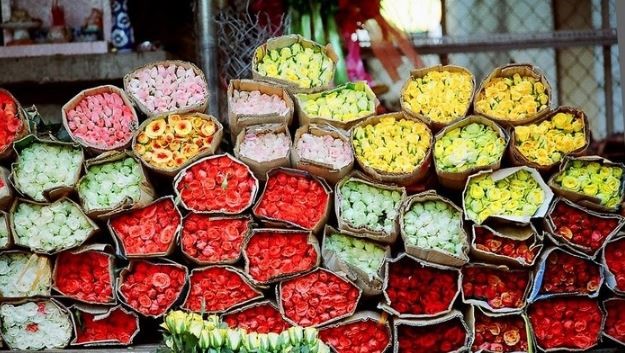 | | |
| --- | --- |
| Local level | ★★★★☆ |
| Recommendation Level | ★★★★★ |
| Budget | 50,000 - 200,000VNĐ/person |
Explore unique street food like no else where
Ho Thi Ky Market is best known as a wholesale flower market so only the locals know there's a food paradise inside. It is also called Cambodia Market by the Cambodia residence so you can find both Vietnamese and Cambodia street food.
No fancy or sophistication here, the food itself enchants people by its simplicity, fresh, and delicate-balanced flavors. With only 10,000VND ($0.5), you can buy a yummy grilled beef skewered with citronella. No need to be a millionaire to eat good food, you just need to come to the right place!
What would I recommend?
If your intent is to try all, why don't we take a look at the "menu" list?
1.Grilled beef skewered with citronella
This is the cheapest yet most delicious dish you have to try. It combines rich-flavor seasoned pork, beef, and onion that grill in the charcoal grill and eat with sour bindweed, Vietnamese coriander, and chili sauce. You can't stop eating just one skewer.
Opening hours: 2pm – 8pm
Price: 10,000VND
2.Cambodia rice noodle (Bún Num Bò Chóc)
The noodle's soup is cooked complicatedly with different yellow ingredients including rhizome whole, citronella, and curcuma. Besides, it also contains signature ingredients that you can only find in Cambodian cuisine such as Kaffir Lime and Prahok (Khmer salted and fermented fish paste)
The rice noodle will be served with flavorful fish and fresh, raw vegetables, including bindweed, crispy banana flower, herbs, Nymphaea lotus, Sesbania sesban.
Opening hours: 6am – 10am
Price: 40,000 – 65,000VND
3. Papaya salad (Gỏi)
This Cambodia-style salad makes you mouth-watering by bringing sweet and sour flavor from papaya, bindweed, Chinese pea mix with buttery, crispy peanuts and salty shrimp paste. This flavorful dish is best to eat as a light starter to activate your taste.
Opening hours: 3pm – 8pm
Price: 15,000 – 20,000VND
4.Ms Huôi sweet soup
Some of Ms Huôi's sweet soups are impossible to find anywhere else. This shop for sweetness fan only uses ingredients imported directly from Cambodia per week. You can try tasty Cambodia sweet soup made from pumpkin, coconut milk, durian, yolk.
Opening hours: 2.30pm – 9pm
Price: 15,000 – 20,000VND
What to explore?
If you want to explore more Vietnamese food, go to the surroundings of Ho Thi Ky Market. Ms Thao beef hotpot, Uncle Tũn snail rice noodle, 5 Ri shrimp hotpot are other recommendations from the locals.
Best timing for visiting
Most of the stores open from 2pm and close at 9pm. So to ensure you won't miss anything, check the exact opening hours of your desired stores before you come.
My recommendation
Try Cambodia food, the flavor might be a little bit strange if you're a foreigner. But I'm sure you will fall for its delicate, flavorful taste.
How to get to Ho Thi Ky Market
From Ly Thai To traffic-circle, go straight to Ly Thai To street and turn right to alley 52. You can book a Grab's ride or taxi with the destination is Ho Thi Ky Market.
All locals know this market so far.
Information of Ho Thi Ky Market
If you are traveling, try local street food that is amazing!
Name: Ho Thi Ky Market
Address: Alley 52, Ho Thi Ky, Ward 1, District 10, Ho Chi Minh City, Vietnam