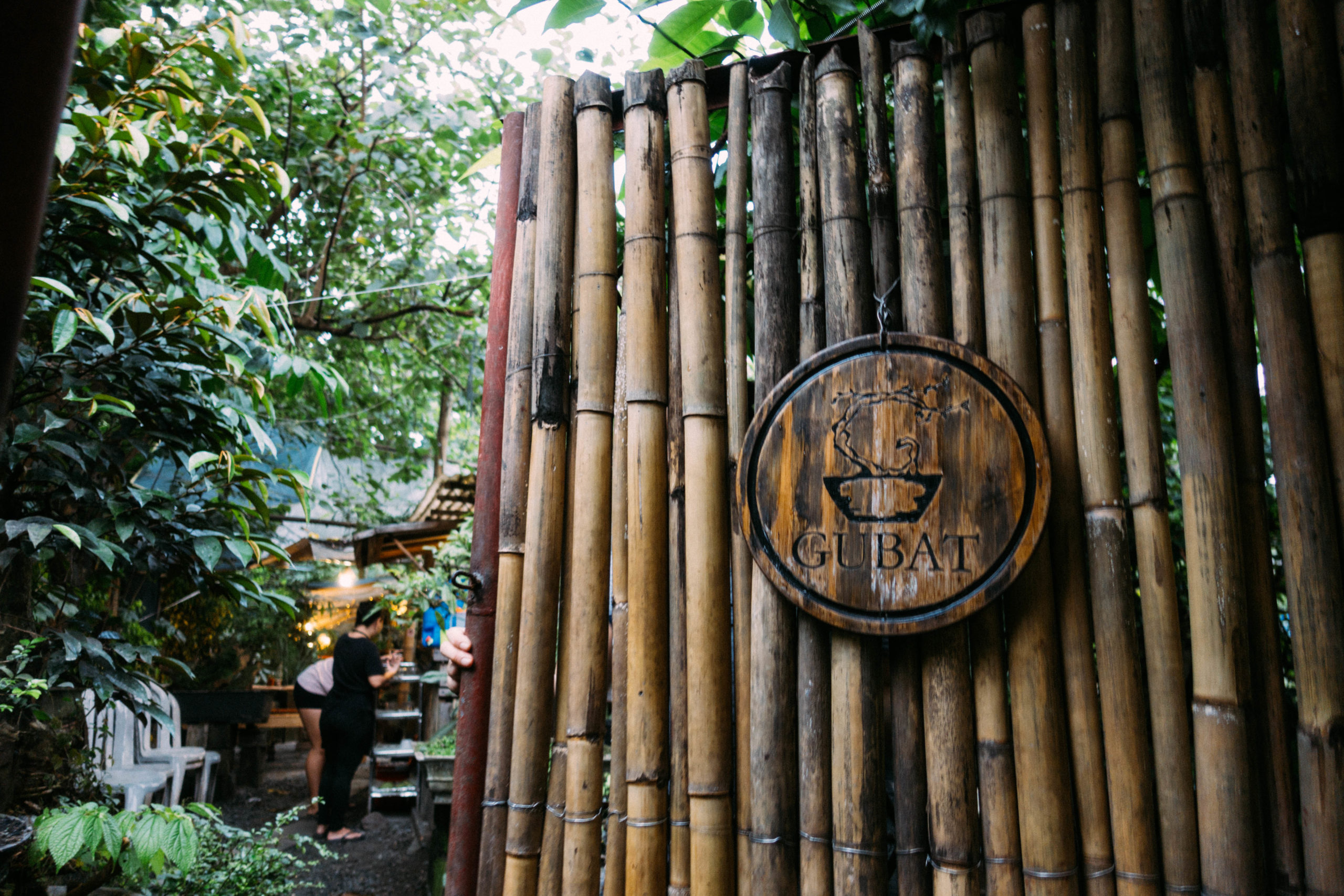 Trying out different things gets exciting especially when we're talking about food. If you're an adventurous foodie and you happen to visit Manila, you should definitely try dining in Gubat, a hidden resto in Quezon City, the largest city in the Metro.
| | |
| --- | --- |
| Local level | ★★★★★ |
| Recommendation Level | ★★★★☆ |
| Budget | PHP150-300/person |
What does Gubat mean and why is the place named as such?
Gubat is a Filipino word defined as "forest or jungle." Enclosed in a thick wall of greeneries, one wouldn't usually take notice of this place which only presents a simple bamboo door with a low-key wooden signage amongst the leafy facade.
It almost looks like a secret portal to Mother nature, a quick escape from the buzzy, busy life in the city.
Once inside, this small patch of jungle will welcome you with lush leaves and cool breeze, providing shade and a refreshing feeling to famished customers.
Various bonsai also stand tall all over the place. Not very surprising since Gubat is located within the Diliman Bonsai Society's area after all.
Let's get to the "meat" of the story!
Okay, hold that thought off for a little bit and let's talk first about rice.
In Japan, rice is one of the several staples served in dining tables but in the Philippines, it is the only widely recognized staple food. That's why most restaurants, including Gubat, always prepare rice and offer rice meals.
And what goes best with rice? Yes, it's meat! Vegetables on the side add flavor and variety, too.
Gubat serves classic Filipinio dishes such as lechon kawali (crispy deep-fried pork), adobo (vinegar and soy sauce braised meat), tapa (cured meat), and tuyo (sun-dried fish), to name a few.
Each meal includes the meat of your choice, adobo rice, pako (fiddlehead fern) salad, and salted egg with tomato.
A hearty, delectable rice meal (or meals, if you're starving) at a very affordable price, Gubat certainly satisfies hungry locals and weary travelers alike.
And if you're looking for drinks to complete your meal, Gubat's fresh fruit juice will absolutely do the job and quench your thirst.
But wait, there's more! Cold brew coffee from Habagat, a local coffee brand, is also available for your caffeine fix.
Why it is so popular and loved by the locals?
Although it is indeed a place to dine, Gubat won't provide you with eating utensils at all.
That's why when I said "eat like a native", I meant that it's time to put your chopsticks down for a while and chow down with your bare hands, which is the primitive (and for me, the most enjoyable) way of eating here in the Philippines.
Quite an experience, right? And as you may have already noticed, they use banana leaves instead of plates to hold the food.
All of these are aligned to their forest feels of dining but more importantly, these are some of their efforts for a zero-waste operation. They also use recycled materials for their decorations, a lovely contribution for preserving nature.
Aside from the scrumptious Filipino meals and the relaxing vibe, customers are delighted when dining in Gubat for they are more than happy to actively abide and support this place's eco-friendly movement.
When and how to get to Gubat?
Open every day from 11:00 to 21:00, it is best to visit this place in between meal times around 14:00 to 17:00 in order to avoid the crowd.
The place is in Diliman, Quezon City and you can get easily there through public utility van (PUV) commute (sadly, the train station near here is not operational as of the moment).
The place is easily accessible by taxi or Grab, too. As shown in the map below, Gubat is also just a 10-min walk from the UP Town Center (UPTC), a prominent mall in Quezon City.
Restaurant Information
Name :Gubat
Address:Diliman Bonsai Society, C.P. Garcia Ave, Diliman, Quezon City, 1800 Metro Manila
Time   :11:00 – 21:00
Days Open:Every day
Facebook  :https://www.facebook.com/gubatquezoncity/
Instagram :@gubat_qc
Visiting popular tourist spots and famous restaurants is great but there's a different kind of feeling and excitement to exploring new places. And if you're up to the challenge, Gubat is absolutely a good place to start.