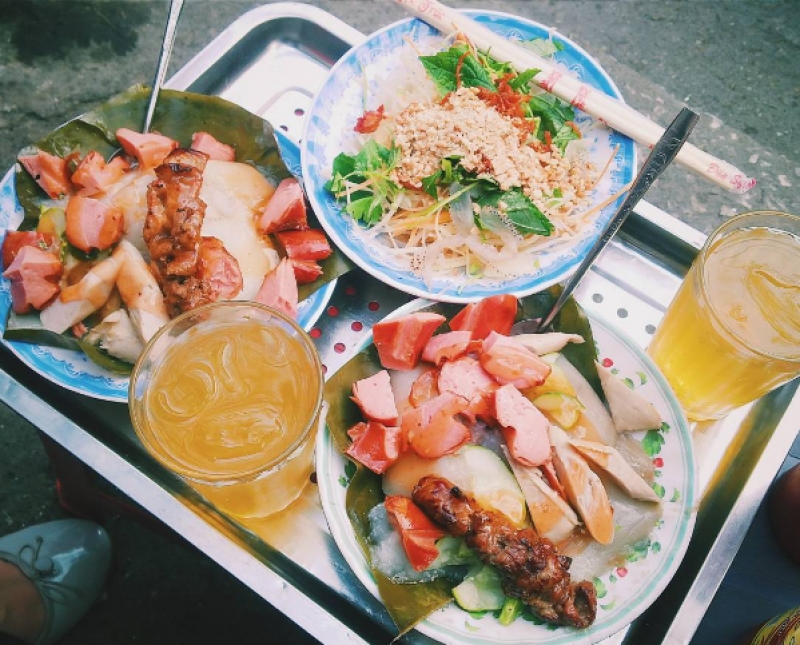 Ha Noi is called the street food paradise where it would be a regret to not diving yourself into yummy local foods and drinks when staying here. Easy to find everywhere, cheap price, and most of all, completely tasty are what make people fall in love with Ha Noi street food.
If you're going to visit Ha Noi in the near future, ensure you have a notebook to tick all these best Ha Noi street food below!
The best Ha Noi street food and where to eat like a local
1.Pho rolls Hung Ben
Vietnamese normally eat Pho as noodle soup, but Pho roll is a combination of Pho and spring rolls. Rice paper sheets are rolled with soft stir fry beefs inside and enjoy with salted papaya, fresh cucumber after diving it into sweet and sour fish sauce. Looks simple but taste amazing.
Address: 33 Ngu Xa, Ba Dinh, Ha Noi
Price: 70,000VND
2.Deep fried fermented pork rolls Ngo Tam Thuong
The interesting fact is only North people deep fry fermented pork rolls. So to eat the original dish, you better eat in Ha Noi. After deep frying, fermented pork rolls become a tasty snack to eat in cold weather.
In traditional eateries, it will be served in banana leafs, eat with chili sauce, cucumber, unripe mango to balance the oily flavor of the rolls.
Address: 36 Ngo Tam Thuong, Hang Gai, Hoan Kiem, Ha Noi
Price: 30,000 - 48,000VND
3.Pork rib porridge Ly Quoc Su
Ha Noi has cold winters with regular drizzle rains so it's great to eat something hot to make your stomach warm. Try sit in a quiet roadside of a small eatery, watch the rain while enjoying hot pork rib porridge.
Each bowl of pork rib porridge usually contains thick porridge, soft pork ribs, salted shredded pork, and crispy cruller. It is also an ideal breakfast to kick-start your day!
Address: 2A Ly Quoc Su, Hoan Kiem, Ha Noi
Price: 30,000 - 40,000VND
4.Tofu pudding Nghia Tan
Tofu pudding is like a little sweet treat of kids that can only be found from pedlars in the street. Nowadays, a few cafes bring it into the menu but I would like to go find that special taste in original roadside pedlars.
In a hot summer day, nothing can melt your heart (and your stomach for sure) better than soft, silken tofu pudding eat with mild sweet Jasmin syrup.
Address: 1 Nghia Tan, Cau Giay, Ha Noi
Price: 30,000 - 40,000VND
5.Egg coffe Giang
Giang is a historic coffee shop where the owner Giang has first invented the egg coffe in Vietnam. Egg coffee of Giang is famous enough that is listed in top things you must enjoy in Ha Noi of CNN.
Egg coffee Giang is a deadly combination of strong dark coffee, creamy egg, and sweet milk. The café shop is not fancy at all but remains memories of the city in antique interior.
Address: 39 Nguyen Huu Huan, Hang Bac, Hoan Kiem, Ha Noi
Price: 34,000VND
Eat and drink is an important part of every cities and countries we've been to. Find the true local eateries help you catch and understand not only the soul of people but also the history of destinations.
Hope my guide can provide you useful information and lead you to good places!
Photo sources: Kenh14