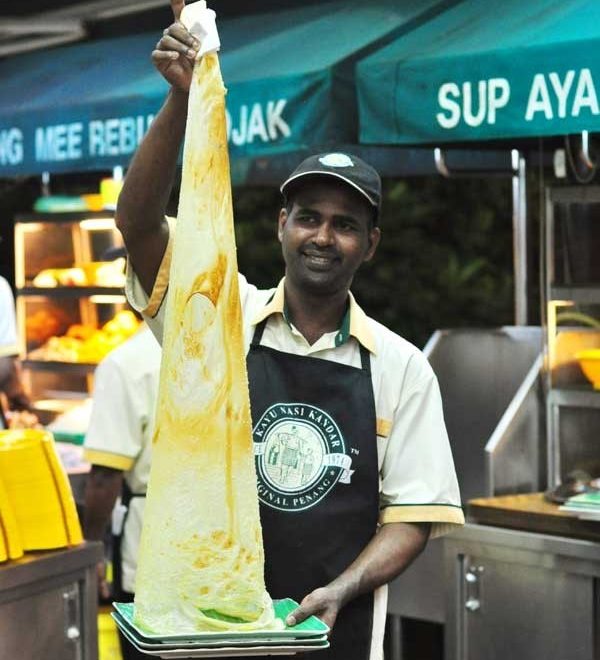 Craving for midnight snacks? Hotel room service doesn't seem to hit the spot? Try a Mamak restaurant! They are 24-hour open-air food establishments that are commonly found all over Malaysia. You can sample Indian and Malay cuisine at these restaurants.
Mamak culture is an integral part of the Malaysian identity. The casual atmosphere and inexpensive foods at a Mamak restaurant are some of the reasons why so many Malaysians enjoy visiting one. For most locals, it is the perfect hangout late into the wee hours. During major sports events such as the football seasons, you will see crowds of people at a Mamak eatery, watching the matches from a huge television or projector screen and cheering for their favorite teams.
To complete your trip to Malaysia, here are some dishes or drinks that you should try at a Mamak restaurant .
Teh tarik
This pulled tea with condensed milk is Malaysia's all-time favorite drink to enjoy at a Mamak restaurant. Thick frothy top with a delicious aroma of black tea, this sweet and piping hot beverage will instantly light up your taste buds.
You can ask for it to be served cold by saying "teh tarik ais" (iced teh tarik) or ask for a less sweet version by saying "kurang manis" (less sweet).
Roti tisu
Roti tisu, or roti tissue, is one of the many varieties of the traditional roti canai (an Indian-influenced flatbread).
Made from a thin roti and shaped into a tall, crispy cone, this sugar-glazed bread is not only a fun dish to eat, but it also serves as an amusement to the crowd.
To get a blend of the sweet and the savory, enjoy it with a dipping sauce, such as curry or chutney.
Cheese naan
This dish is my personal favorite! Cheese naans may be found at Indian restaurants around the world, but eating one at a Mamak restaurant in Malaysia is an experience that must not be missed!
Gooey, savory melting cheese on the inside paired with warm, sweet bread on the outside, this dish will keep you wanting more.
Maggi goreng
Maggi goreng is similar to mee goreng, or fried noodles, but instead of the usual yellow egg noodles, this dish uses the Maggi brand instant noodles.
The springy noodles are stir-fried with curry powder, spices, vegetables, and chicken. Topped with a sunny-side-up and a sour lime on the side, this Malaysian comfort food is one of the must-try dishes at a Mamak restaurant.
Nasi kandar
Nasi kandar is a well-loved northern Malaysia dish that had originated from Penang. Locals from different races and backgrounds would think nothing of joining long queues to get a good nasi kandar.
It is a dish of rice with a variety of curries and side dishes of meat and vegetable that one can choose from.
There are many other dishes that you can find at a Mamak restaurant, and I hope that you will get to try all of them. It is bound to be an experience that you will not forget.