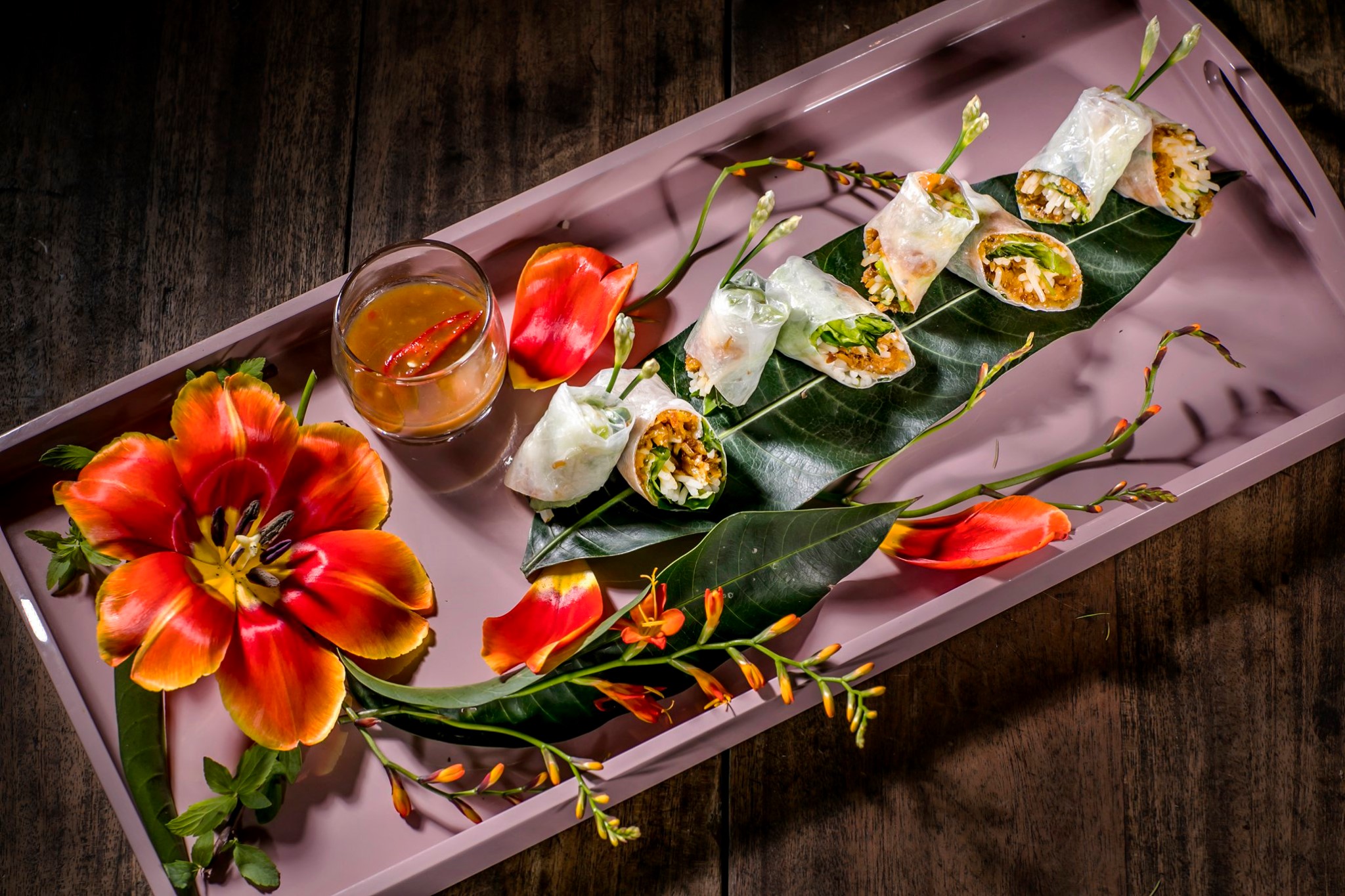 | | |
| --- | --- |
| Local level | ★★★★★ |
| Recommendation Level | ★★★★☆ |
| Budget | 85,000 - 150,000VNĐ/person |
Have a scented Vietnamese lunch/dinner in a flower shop
Padma De Fleur is a lovely rustic flower shop that provides wedding decoration and flower delivery.
This flower store locates in a quiet street which makes you feel like lost in a charming green oasis at the moment you come in.
An ideal place for your romantic date
You can amaze your partner by taking your loved one to this secret land with blooming flowers and vintage interior.
If you come in the daytime, go downstairs to enter the hanging garden to bathe in natural sunlight and listen to the sound of birds.
They mostly serve Vietnamese food decorated with colorful flowers and plants. You can find sets of traditional, simple yet delicious dishes such as purple taro soup, fresh spring rolls, and bitter melon salad.
Their bitter, sweet, and sour cocktails are also specifically made for your starry night.
At Padma De Fleur, you enjoy not only the food but also the fresh scent, warm candle lights, stunning flowers, harmonious music, and excellent service.
Best timing for visiting
They serve:
LUNCH from 11.30am to 2pm, Tuesday to Sunday.
COFFEE, TEA & JUICES from 10am to 6pm, Tuesday to Sunday.
COCKTAILS & DINNER from 5pm to 10pm, Tuesday to Sunday.
Because the eatery space is limited, you should book in advance. It's also suitable for personal dates or small gatherings instead of large, noisy groups.
How to order
A unique thing about this floral eatery is they don't have a fixed menu. They serve guests surprising dishes according to what fresh food they have on that day.
The waiters and waitresses are nice and can speak English so foreigners will feel welcoming here.
My recommendation
Because the food isn't fixed, it's hard to recommend a specific dish but all dishes I have eaten are tasty and well-served. So just trust the chef and enjoy the surprise!
Besides lovely seasonal juices and cocktails, they also have special free water. It's a Padma's signature mixture made from artichoke and cilantro.
Since it's not a speciality café shop, their Vietnamese "cà phê sữa đá" worth a try either.
Why do local people love this place?
Located in the center of Saigon but this charming nest separates from the bustle city outside. It's the best place to find a short getaway with no noisy sound and polluting atmosphere.
Everything in this place is fresh and daily updated, from flowers to vegetables and other ingredients.
Padma de Fleur also leverages the usual traditional meals by presenting it artsy with flowers.
How to get to Padma De Fleur

When you're at the Calmette – Le Thi Hong Gam crossroad, turn right to Le Thi Hong Gam street then turn left to 55 Nguyen Thai Binh Alley.
It's right on your right side, very easy to find.
Information of Padma De Fleur
Name: Padma De Fleur
Address: 55/6 Le Thi Hong Gam District 1, Ho Chi Minh City
Time: Around 10:00 to 22:00
Regular holiday: Mondays / National Holidays
Budget: 85,000 - 150,000VNĐ/person
URL: https://padmadefleur.vn/
If you are traveling, try niche restaurants that are not in the guidebook! And Padma De Fleur is exactly that!