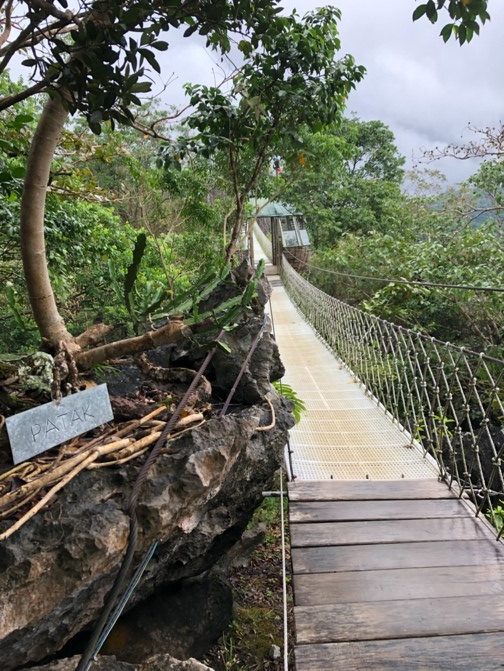 Eco-Adventure in Masungi Georeserve
Local level
★★★★★
Recommendation level
★★★★★
Budget
PHP1500/person(weekdays)

PHP1800/person(weekends)
Climbing with Purpose
Found in the province of Rizal is a nature reserve that both entices and educates its visitors. The Masungi Georeserve is a vast area of trees, mountains and caves found in a certain part of the Sierra Madre Mountain Range.
Illegal loggers and mining caused a major detriment to the area but good thing that a private organization stepped in and invested in preserving the area. Aside from preserving the area, the reserve also provided jobs for the locals.
Eventually, the organization opened the area to travelers. This is their way of educating visitors about the various flora and fauna found in the area as well as how to preserve the environment. Visitors get to hike the reserve for three to four hours (depending on your speed of course!).
Not Your Ordinary Climb
The three to four hour hike consists of various attractions. Each group is provided with a guide so that you may be able to enjoy them properly.
Each section provides a different experience. There is a hanging bridge where you can admire the scenery. A part of the tour includes a meditation walk through foliage where visitors are required to not speak for 5 minutes.
Some sections are more challenging than some. Such as climbing up or down a cargo net in order to get to the next point. But don't worry, should you feel that you can't do this physically, there are shortcuts for you to avoid the physically demanding sections of the trail.
All in all, it is a must try experience for everyone!
Simple Snacks After the Hike
After an enjoyable hike, the guide will lead you to their café area where you can freshen up. There are washrooms available to clean yourself and change your clothes.
And of course, nourish yourself after all the exercise! Snacks can be bread with a local spread, boiled bananas, honey and freshly squeezed juice of the fruit in season.
Climb Essentials
Good and comfortable closed shoes will be best for this hike. Rubber shoes, hiking shoes or any outdoor shoe will work well. Wear these along with long lightweight pants and a quick drying shirt.
Bring a bag with a set of extra clothes, some trail snacks, a bottle of water and a camera with a cord that you can hang from your neck or wrist. The guides have mentioned that many have lost their cameras or phones because these fell while they were climbing. Helmets are provided by the reserve and part of the fee.
Best Time To Visit
Any time of the year is ideal to visit the Masungi Georeserve. You don't have to worry about the crowds because for each group there is a minimum of 7 persons and a maximum of 14 persons. During the months of June – September is the rainy season in the Philippines, so be careful when scheduling a visit around this time. The park might close to visitors if the rains are too strong.
Late March to mid-May is the summer season. This might be too hot for those who are not used to humid weather.
Language
Majority of the guides speak in the local language, Filipino. Should a guide who speaks English is requested, there is no guarantee that they will be able to provide this.
How To Get There
From Manila, take a car or van to Baras, Rizal. The park can easily be found on Google Maps or Waze.
Reservations
For this adventure, the reserve manages the number of visitors in a day. So, adventure seekers have to place their reservation through their website.