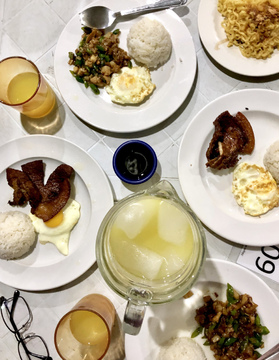 Silogan ni Gian
| | |
| --- | --- |
| Local level | ★★★★★ |
| Recommendation level | ★★★★★ |
| Budget | PHP45~150/person |
What is Silogan ni Gian?
Ask any college student living near a university at the heart of Cebu City and they will tell that Silogan ni Gian is the best 'silogan' in city.
'Silog' refers to the favorite breakfast combination of many Filipinos consisting of sinangag (fried rice) and itlog (egg) – hence the term "silog". This local combination is further upgraded by adding different kinds of viands to complete the trifecta of silog meals – like longsilog (longganisa), bangsilog (bangus), hamsilog (ham), sisigsilog (sizzling pork), hotsilog (hotdog) and so on.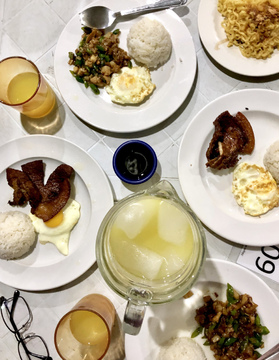 Why is it popular and loved by locals?
Despite of its dark location, Silogan ni Gian is quite popular among students and employees because of the tasty meals that they serve that will surely suffice the hunger without breaking the bank.
It's budget-friendly, open for people from all walks of life, has a wide selection of meals to choose from, and works in long operating hours.
Best time to visit
As it is quite crowded by students during meal time, it is best to visit Silogan ni Gian around six in the morning, before lunch time and around eight in the evening or beyond. This is to avoid long lines and long waiting time for the silog that you order to be cooked and served.
How to order
Silogan ni Gian follows a very easy process for orders. Upon entering the vicinity, you have to line up to the counter to order. A list of "silog" combinations and price list is provided so you can already choose ahead what to order – depending on your taste or depending on what your budget can afford.
When it's your turn to order, the cashier will list down all your orders, including your silog meal and other add-ons like drinks, extenders, and fruits. After that, the cashier will give you a priority number. You then find an empty table and chair to sit. There you wait for the food server to call your number and serve your order.
If you want to order additional food, you may tell the food server. They will ask for your number and just add your order to the list that they already have.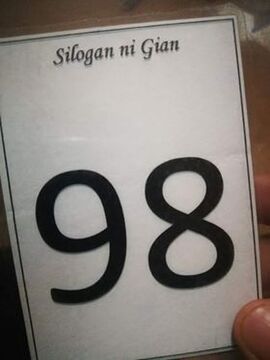 If you are done eating and wanted to pay the food that you have eaten, simply line up once again to the cashier, hand-in your number, and then pay your dues.
Recommendation
Sisigsilog is my default meal-to-order once my colleagues and I decide to eat at Silogan ni Gian. The combination of garlic rice, sunny-side-up egg and garlic rice is heavenly. Plus, Silogan ni Gian is never stingy with their spices so expect the spicy flavor that will surely level up the gastronomic experience.
If this is unavailable, I usually go for porksilog. It's cheap and truly delectable. If my friends and I are totally worn-out with work, we usually add instant pancit canton and order a pitcher of fruit juice.
How to get there
From Cebu Velez General Hospital, you may walk straight ahead to Robinsons Mall in Fuente. Before reaching the mall, you will see a densely populated alley to the left which goes directly to Jones Avenue – that's Arlington Pond Street.
I don't know why the area is not properly lit but it's safe to walk there. Facing Jones Avenue, Silogan ni Gian is located on the right side of the road.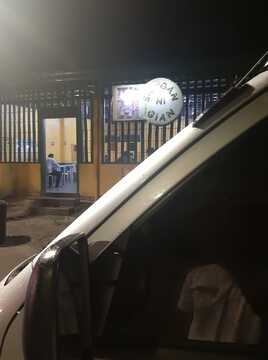 Important Information
Name: Silogan ni Gian
Address: Arlington Pond St, Cebu City (near Velez Hospital)
Time: 24 hours (may change without prior notice)