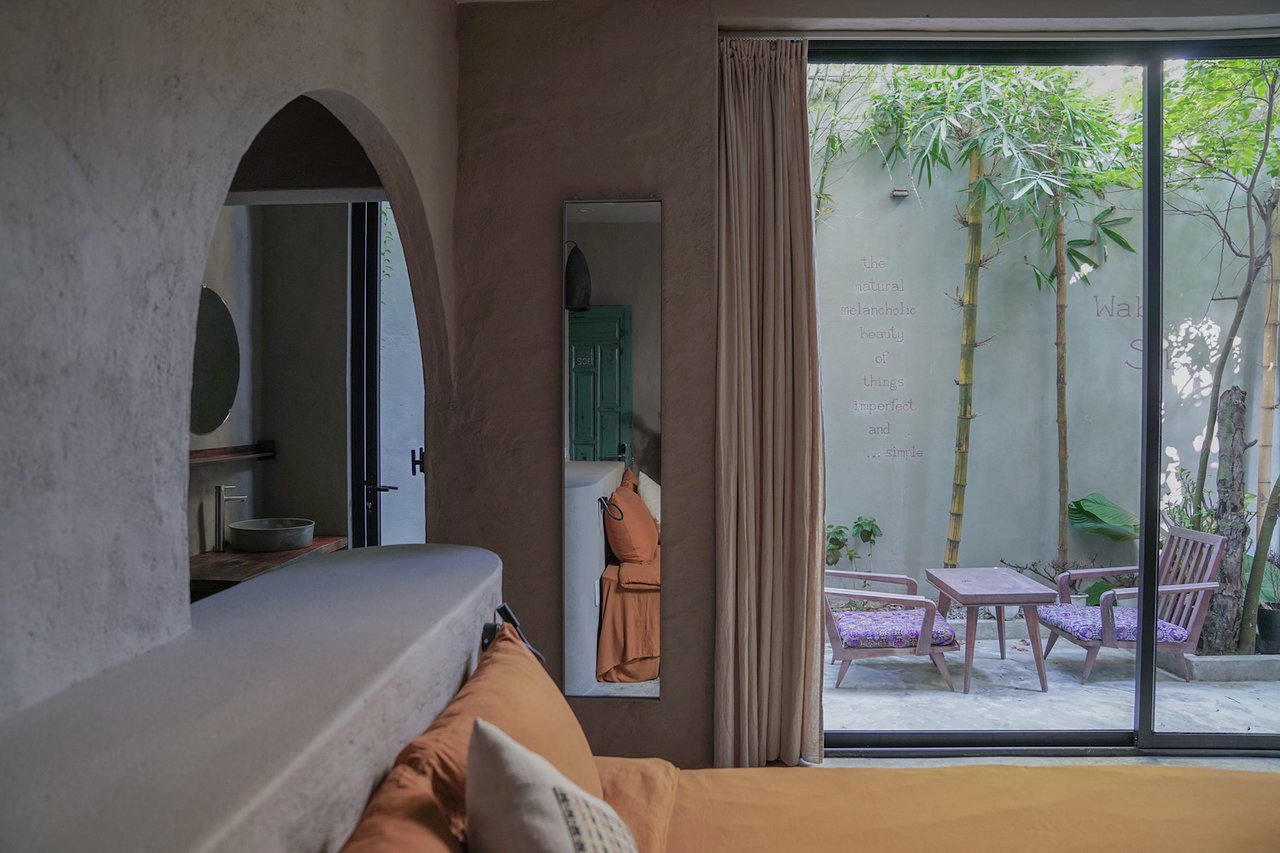 If you are traveling, try boutique hotels that are not popular, and Dechiu Hotel I am writing about is exactly that!
| | |
| --- | --- |
| ローカルレベル | ★★★★★ |
| おすすめレベル | ★★★★★ |
| 予算 | 1,957,000VNĐ / 泊 (朝食込み) |
Find the beauty of life in imperfection
Dechiu Hotel is a 3-star boutique hotel stay quietly only 8 minutes away from the tourism-famous Hoi An Ancient Town.
The hotel uses concrete in architecture and woods in interior, all 12 rooms are thoughtfully designed with curated stuff such as hanging arts, rugs, pillows, each one unique.
No luxury found here, everything in Dechiu makes you feel like home. You can read a book, do yoga, take a sip of tea, or do nothing. Here is where life is simple.
Enjoy "food for the soul" at Gieo Cafe
Gieo Café in Dechiu is where to reconnect intimate with your loved ones while enjoying from-farm-to-table local meals. A home always has good food for us, so does Gieo Café!
With the team, making food is a way to spread life on earth. So if you want to know how delicious, original Vietnamese food tastes, come to Gieo café. Some people said the food here is so good that they don't want to eat in other places in Hoi An.
Special Events at Gieo
Joining an embroidery handcraft event is an exciting activity to do when staying at Dechiu. When learning how to make beautiful embroidery arts, you also get to know the history Vietnamese Traditional Hand Embroidery Art.
What to explore?
Dechiu Hotel's location is wonderful where the private beach appears after a few steps.
You can also lend bikes to ride to the Hoi An Ancient Town and spend your night to explore one of the most charming historic attractions. Tons of local restaurants, cafes, souvenir shops nearby to fulfill your emotions.
If you have no ideas what to do in your long-day vacation, just ask Theo (The owner) or the staff! All of them are so heart-warming, genuine and they'll give you many useful recommendations.
Best timing for visiting
The best time to come to Hoi An and visit Dechiu is the dry season, from February to July. If you go in the winter, you might cover in rains that stop you from exploring and enjoying beautiful nature.
My recommendation
Because Dechiu is a small boutique hotel, you should book early before your trip, especially in peak season. Staying at least two days or a week is the best for a complete getaway from the bustle city.
How to get to Dechiu
From An Bang Beach Ceramic House in Lac Long Quan Street, turn right to An Bang Beach Travel Villa area. Then turn left to Nguyen Phan Vinh Street and you'll find Dechiu Hotel at 23 Nguyen Phan Vinh.
Information of Dechiu Hotel
Information of Dechiu Hotel
Name: Dechiu Hotel
Address: 23 Nguyen Phan Vinh Tan Thanh, Cam An, Hoi An, Vietnam
URL: https://dechiuhotel.com/